NS series
Outline
Small and medium-sized mixers
The NS series mixers are characterized by compactness and light weight achieved by a simple design.
In addition, they are available in a wide variety of types, such as the cycloidal reducer type and belt drive type.
Features
NSR mixer
Applicable to a wide range of volumes and motor powers.
Compatible with a wide variety of shaft seals, such as gland, single mechanical, and double mechanical seals.
NSG mixer
Single reduction using a high-precision helical gear achieved long life and low noise.
Lubrication with grease makes this product free from maintenance for twenty thousand hours.
NSV mixer
Design a focus on the maintenance-free feature.
Achieved easy belt replacement and no application or replacement of lubricant for a long period of time.
Specifications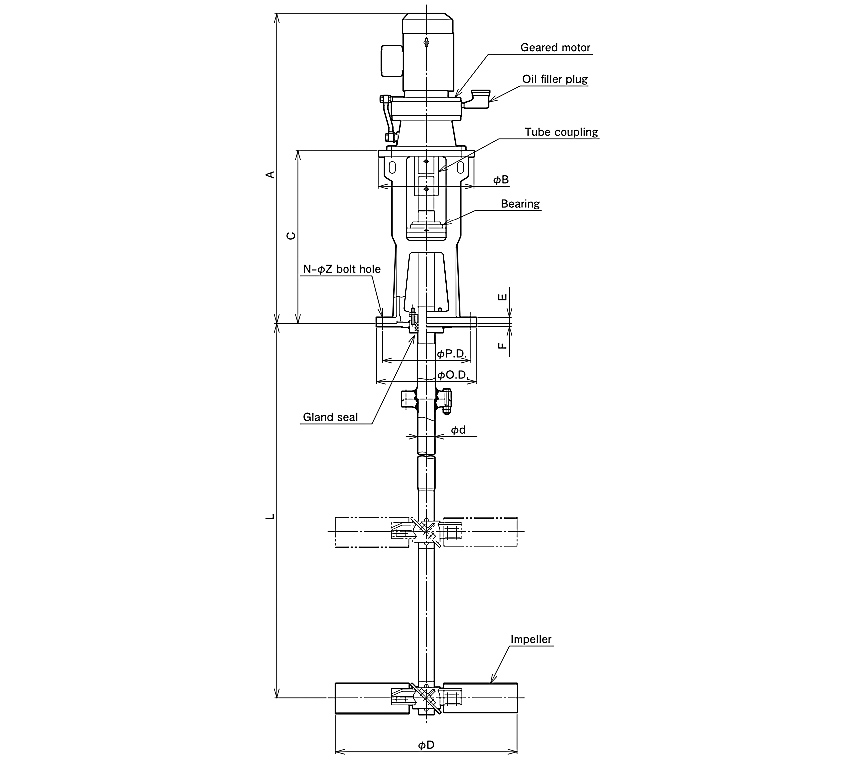 Series #
Size of mounting flange
Mixing
Shaft
diameter
Φd
A
B
C
E
F
Approx.
weight
(kg)
Nominal
diameter
ΦO.D.
ΦP.D.
N-ΦZ
NSR-2
JIS10K
150A
280
240
8-Φ23
Staddie centerlines
35
773
220
400
18
7
75
NSR-3
JIS10K
200A
330
290
12-Φ23
On centerlines
45
1092
260
523
20
10
120
NSR-4
JIS10K
200A
330
290
12-Φ23
On centerlines
55
1157
315
573
20
10
180
NSR-5
JIS10K
200A
400
355
12-Φ25
On centerlines
75
1548
400
760
30
15
380
■Approx. weight represents the weght of the main unit only; the weight of impeller ASS' Y is not included.
■As for L dimension, please consult with us.
Documents and data Downloads